On April 28, 1979, Dennis Rader broke into the home of his 8th intended victim, Anna Williams.
Rader cut the phone lines and waited for both her and her granddaughter, who occasionally spent the night at Williams' house, to return.
Fortunately, the pair managed to escape their violent end.
Before returning home from a night of square dancing, the 63-year-old decided to make a stop at her daughter's home. Meanwhile, Williams' 24-year-old granddaughter, Rebecca, was asked to work an overtime shift at the Tollway that night.
The BTK spent hours waiting but became impatient and left.
When Williams returned home late in the evening, she found the door to a spare bedroom open, a vanity drawer open, and clothes on the floor. Someone had stolen jewelry, clothing, and a sock in which she had hidden $35. Upon checking her telephone and realizing there was no dial tone, she fled and immediately called the police from a neighbor's house.
In the midst of BTK's reign of terror, checking the phone signal became a safety routine for Wichita residents.
Inside Williams' house, investigators found a bundle of bindings, which included rope, wire, underwear, and belts. Jewelry, coins, and scarves were also missing from the premises.
Weeks later, on June 15, 1979, Williams received an 8-and-a-half by 11-inch manila envelope containing a 19-line poem, a sketch, clothing, and jewelry which had been taken during the break-in.
The poem was titled "Oh Louis Didn't You Appear." BTK had crossed out the name "Louis" and printed "Anna".
"Oh, Anna Why Didn't You Appear
T' was perfect plan of deviant pleasure so bold on that Spring nite
My inner felling hot with propension of the new awakening season
Warn, wet with inner fear and rapture, my pleasure of entanglement, like new vines at night
Oh, Anna, Why Didn't You Appear
Drop of fear fresh Spring rain would roll down from your nakedness to scent to lofty fever that burns within,
In that small world of longing, fear, rapture, and desparation,the game we play, fall on devil ears
Fantasy spring forth, mounts, to storm fury, then winter clam at the end.
Oh, Anna Why Didn't You Appear
Alone, now in another time span I lay with sweet enrapture garments across most private thought
Bed of Spring moist grass, clean before the sun, enslaved with control, warm wind scenting the air, sun light sparkle tears in eyes so deep and clear.
Alone again I trod in pass memory of mirrors, and ponder why for number eight was not.
Oh, Anna Why Didn't You Appear
BTK, 1979″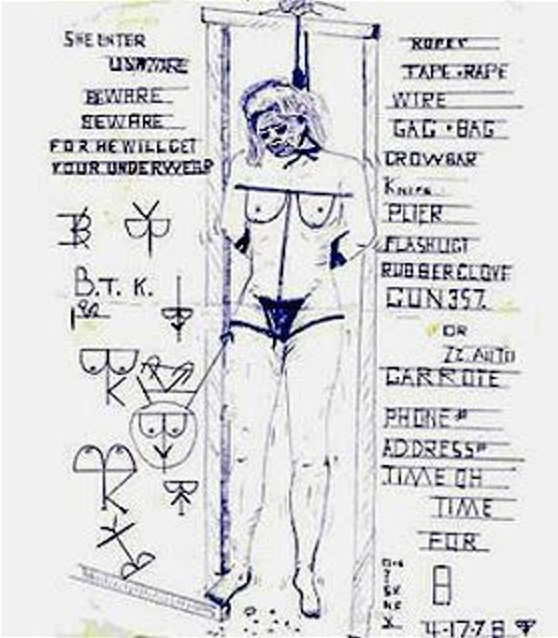 In his confession, Rader revealed that he developed an obsession with Williams and felt "absolutely livid" when she managed to elude him. The BTK also said that if Williams and her granddaughter had come home, they both would have "gone down."